School Pupils raise thousands for AFK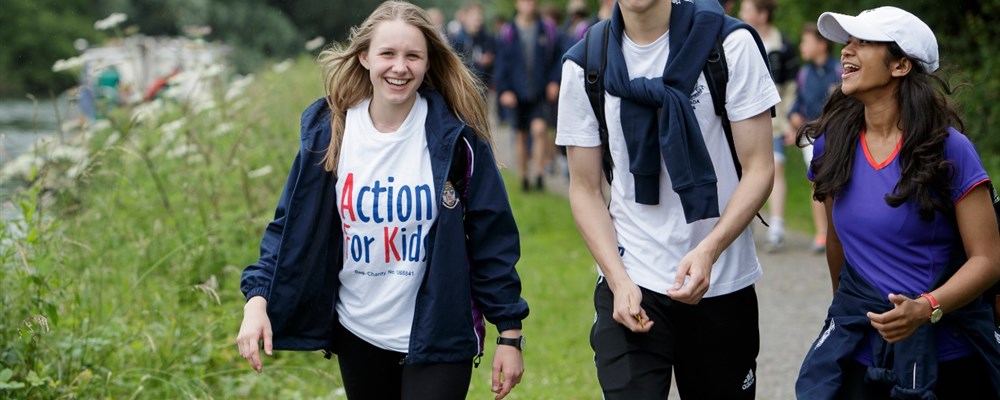 School pupils raise thousands of pounds walking from London to Hertfordshire
Even though it poured with rain, 231 Haileybury pupils and 24 staff powered on to complete a 14 mile sponsored walk, raising over £6000 for Action For Kids (now known as my AFK).
The route started in Enfield, London and finished at Haileybury in Hertford, Hertfordshire.
Year 10 pupil, Edward Davies, said: "It was a great experience, tough at times, but worth it to raise lots of money for a great charity."
Angus Head, Haileybury's Co-curricular Deputy Head, said: "Our pupils showed great character, spirit and humour, despite the wet conditions! Well done to everyone for taking on the 14 mile challenge and raising more than £6,000 for Action For Kids."
The independent boarding school in Hertfordshire chose Action For Kids as 'charity of the year' and have been raising money with various different fundraisers including shows, sporting events and fetes – all organised by the teenagers themselves.
Action For Kids' CEO, Graham Duncan, said: "Haileybury's sponsored walk was an impressive feat of organisation and energy, and the students demonstrated commitment to helping others their age that their families and school can be proud of. Our work with disabled young people depends on the support of the whole community and we really appreciate everything Haileybury is doing for us. To everyone who did the walk or made it possible behind the scenes, thank you."
Could your organisation support my AFK (Action For Kids)? Find out more here.