AFK succeeds in GamesAid charity selection process

AFK have made it to the top five causes receiving a tranche of funding from GamesAid at the conclusion of this financial year.
Your vote for AFK helped secure funding that will go towards supporting disabled young people like Cameron.
Cameron is a keen gamer and loves his computer, he also loves to get outdoors with his family and cook at home. Cameron is awaiting news on foot surgery after a tough couple of years. A few setbacks have left him less able to walk independently, affecting his self-esteem.
'Cameron would benefit so much from an all-terrain wheelchair it would help him become more independent and be able to challenge himself to new adventures. We live near a park that has a racecourse and woods but sadly Cameron has got stuck every time we went to explore. Cameron just wants to be free to explore and go wherever he chooses without being restricted, much like his friends'. Cameron's mum explains.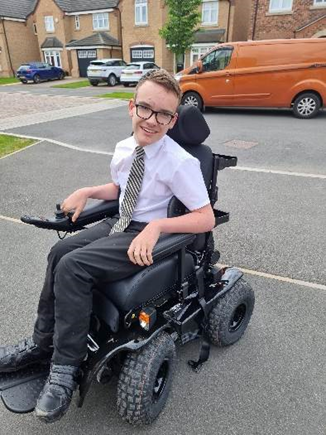 Many young people like Cameron use gaming to relax, connect with others and have fun online. One of our latest mobility recipients sent a heartfelt thanks after receiving a life-changing piece of equipment. In their message, their family explained gaming online gave them confidence as nobody would know they had a disability. It is AFK's mission to work to shake this stigma and support young people with disabilities and autism to grow in confidence both in front of the gaming screen and away from it.
After our mobility waiting list was closed at the start of the year due to increased demand, AFK was delighted to hear Cameron had received his chair a week before his 15th Birthday.
'It's here, Cam's just come home from school and couldn't believe his eyes, he honestly hasn't stopped smiling yet. This is just so hard to put into words how much it's going to help our family and Cam's social life, he cannot wait to get going in it, saying "Mum there's lights and everything". Thank you, Thank you, so much'
It's World Gaming Day on Saturday 22nd October!
Are you in to gaming?
Is your organisation interested in getting involved and raising funds for AFK?
Email [email protected] to get involved!