Barclays gives £100,000 to local disability charity
The Barclays 100×100 UK COVID-19 Community Relief Fund has given £100,000 to Hornsey-based charity AFK–Working With Disability (formerly Action For Kids) to support disabled young people and their families through the pandemic.
In 2020 Barclays announced a £100 million Community Aid Package to support charities that are helping people and communities most impacted by COVID-19.
Thanks to this funding, AFK has been able to move their education and employability programmes online, delivering a wide range of activities to support the skills development, work readiness, and the mental health and wellbeing of disabled young people.
"When the first lockdown happened in the Spring of 2020, it was stressful for many of our young people," said Elaine Harman, who manages AFK's Life and Work Programme. "Many of those in employment were furloughed, which meant they were isolated from their colleagues and friends at their workplaces, and experienced higher levels of anxiety.
"With continued support from our team of job coaches, corporate partners and volunteers, all our furloughed trainees were able to keep their jobs, and some gained new paid work, despite these challenging times."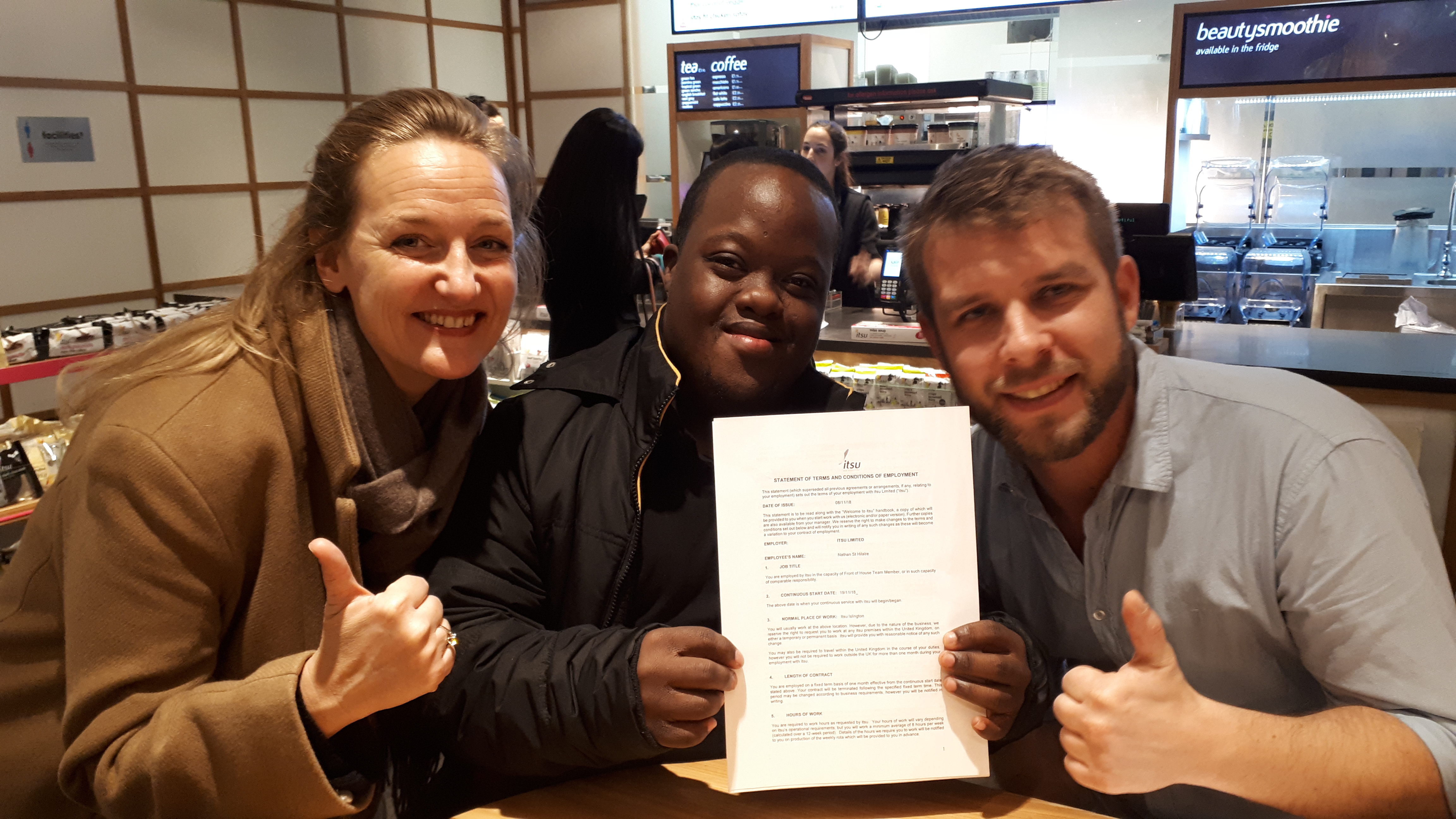 For the disabled young people AFK supports and employs, the pandemic has exacerbated many of the struggles they face every day. A report from Public Health England (PHE) found that people with learning disabilities are dying of COVID-19 at more than six times the rate of the general population; aside from the health risks of the virus, the impact of the pandemic on both social interaction and mental health have also disproportionately affected disabled young people.
Jolene Sampson has worked with us for many years; she has learning disabilities and first came to us through our Life and Work Programme, and now supports other young people as a Support Assistant.
"I found [lockdown] to be one of the worst times of my life…I just wanted everything to go back to normal. The stress made it difficult to eat or sleep, and all I wanted to be to feel safe. I just wanted to feel like myself and be with my friends."
Being able to deliver online sessions has allowed the young people AFK supports to keep learning and stay connected with each other. The AFK Holiday Programme, delivered during half term and summer holidays, facilitates safe social activities to complement the education and employability training sessions offered year-round.
"Many young people we support missed out on months of socialising last year, often having to shield and so could not even attend school," said Services and Business Development Manager Kate Jackson. "Some parents had reported regressions, loss of skills and confidence as well as anxiety and low mood. Our Holiday Programme provides opportunities for socialisation, learning new things and having some much-needed fun during this stressful time!"
"We are so grateful that Barclays chose to award this funding to AFK," says Elaine Harman. "A donation of this size is greatly appreciated at any time, but given how much people are struggling during this pandemic, the impact of these funds is that much greater."
"AFK is a great local charity striving to put young disabled people at the forefront as we all come to grips with life during Covid," says Catherine West, Labour MP for Hornsey and Wood Green. "Disabled people are badly affected by Covid so I'm thrilled to hear that AFK has been successful with a grant to support youngsters to succeed regardless of background and to achieve happiness during this very difficult time of the pandemic. Good luck to staff, volunteers but particularly to all the young people for the life of this Programme, the whole community of Hornsey and Wood Green is behind you."
Editor's Notes
About AFK–Working With Disability
AFK–Working With Disability (formerly Action For Kids) is a national charity supporting disabled children, young people and their families.
AFK helps prepare young people with learning disabilities and autism for life after school through accredited education, training and work experience programmes.
AFK also provides mobility equipment not available on the NHS to disabled children and young people up to age 25 across the UK.
About the Barclays 100×100 UK COVID-19 Community Relief Fund, from their website:
To support COVID-19 relief work in UK communities, we launched the Barclays 100×100 UK COVID-19 Community Relief Fund.
This commitment – which forms part of our wider COVID-19 Community Aid Package – focuses on supporting UK charity partners who are meeting the immediate needs of people in UK communities, including low income families, those facing financial hardship, isolated elderly people and key workers.
We invited UK charities to apply for one of 100 donations of £100,000, and were delighted by the sheer volume and scope of applications we received from charities across the UK who are tirelessly delivering impactful, on-the-ground support to vulnerable UK communities impacted by the crisis.