Advocacy and mobility: Sam's story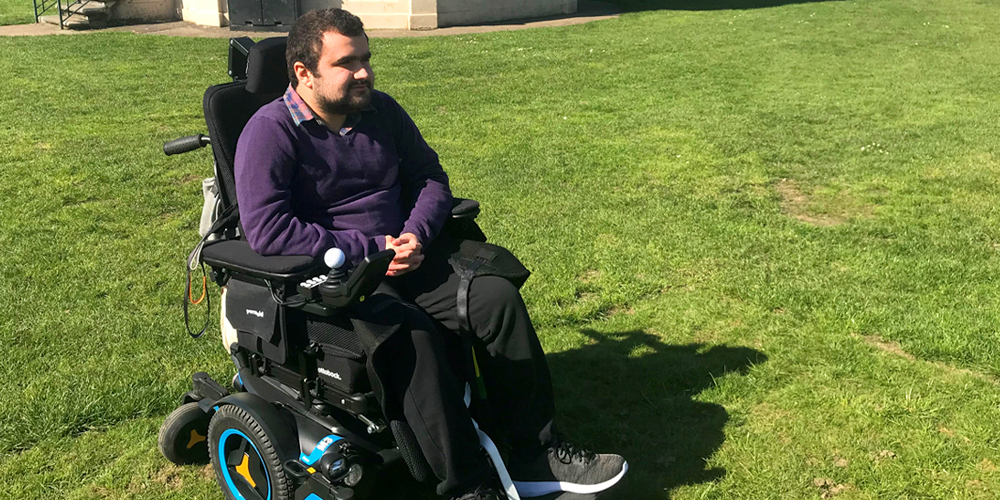 When our Mobility Services team met 22-year-old Sam, his existing powerchair (which had been funded by his family) wasn't giving him adequate comfort or support. We knew we could help.
22-year-old Sam Waddington has a degree in journalism, currently leads an anti-hate crime project for a local disability rights charity and hopes to secure paid employment with the organisation. Sam also has Duchenne Muscular Dystrophy, a muscle wasting condition that affects his mobility, and is permanently in a wheelchair.
When we first spoke with Sam in October 2018, the powered wheelchair he was using was privately funded by his family, as the NHS was not able to provide an appropriate chair that met his needs. This chair had worked well for many years but, as his condition progressed, it was no longer offering enough comfort or postural support. It also became unreliable, with limited battery life, meaning that Sam was unable to go out for long periods of time and often worried about it breaking down while he was out.
Sam applied to my AFK for funding towards a Permobil M3 Corpus powered wheelchair. The Permobil is an extremely specialist chair which meets his postural needs, featuring a function which memorises seating positions that are good for his posture. This reduces the possibility of pressure sores, cramps, and back aches.
Because of its highly specialised features, the Permobil chair Sam needed would cost over £18,000. Sam had already approached several charities, including my AFK, to raise the funds he needed for the chair. He did not need any additional support from us with fundraising, but he was keen for us to help as an advocate.
Sam had already contacted his local wheelchair service before he approached us, but hadn't been able to get the support he needed:
"It seemed as if my local NHS wheelchair service were not understanding that I urgently required a new and more suitable wheelchair than the one I was using," Sam told us. "I thought that given the urgent situation I was in, with the wheelchair causing me a lot of discomfort and regularly running out of battery thus limiting my independence, they would've acted quicker to help me get another wheelchair."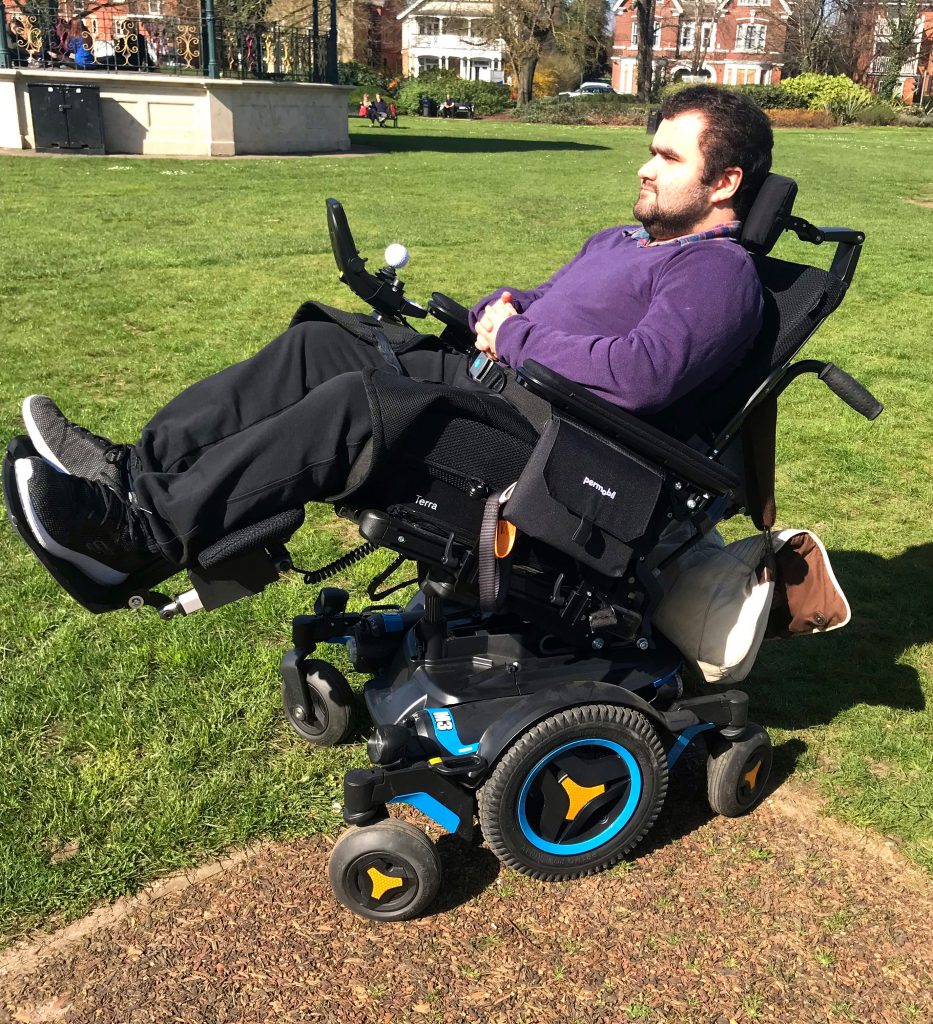 After hearing Sam's story and his difficulties with the wheelchair service, Julia and Whit from our Mobility Services team offered to provide some advocacy support with Sam's approval. They believed Sam could be eligible for both an urgent assessment and an NHS wheelchair voucher to be used towards the cost of his chair.
Speaking with Sam recently, he said, "I was a little surprised that my AFK suggested I would be able to get an NHS voucher for my wheelchair this time around, given the NHS didn't supply a voucher for my previous wheelchair." Despite some concern that it wouldn't be possible to get an NHS assessment for the voucher as quickly as he needed it, Sam was keen for my AFK to explore these options.
The financial support from local authorities to individuals and their families when buying equipment should be greater."
"We approached the local wheelchair service on his behalf and, after several emails and phone calls, we successfully persuaded them to offer an urgent assessment, given the discomfort his chair was causing," said Mobility Advocacy Manager Julia.
Sam said in response to this: "I felt very grateful to my AFK for getting the assessment arranged quicker than it would've taken otherwise. Before my AFK began supporting me, I was doubtful the NHS were going to supply a voucher." But, after securing the urgent assessment for Sam, this looked increasingly likely.
To prepare for the assessment, Julia spent time with Sam and his mother talking through the issues they needed to raise with the wheelchair service to ensure that the wheelchair service provided adequate and appropriate support for Sam's specific needs. Soon after his assessment, Sam got in contact to say that, with Julia's support, he had successfully secured an NHS voucher of £3,420 to be used toward his new powerchair!
Thanks to our advocacy work, as well as Sam's own fundraising, we were able to order Sam's chair just two months after he applied to my AFK, with his chair being delivered shortly after.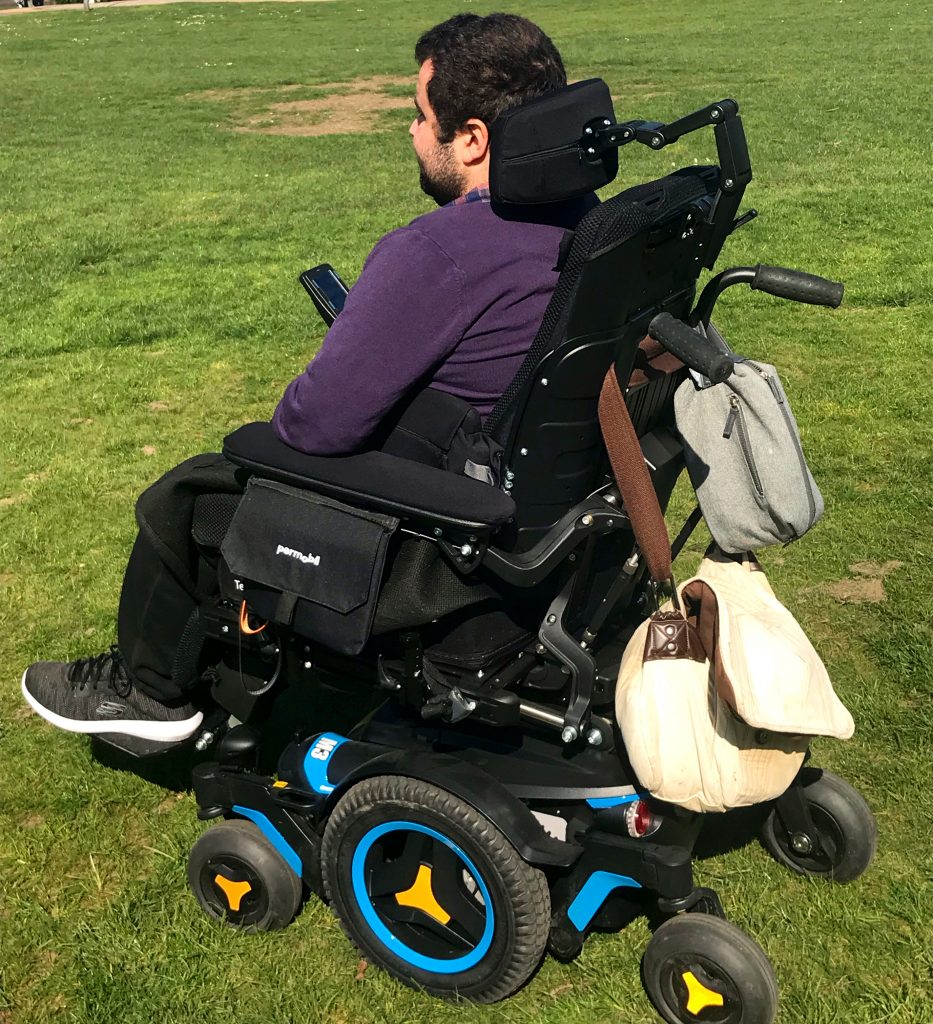 "I've been using my new chair since the beginning of March and I have definitely noticed an improvement from a postural and comfort point of view," Sam told us. "With the better suspension and smoother tyres, it feels a lot more robust when driving around, and easier to manoeuvre because of its very compact design. It also has a long battery life, so it can be used when I'm out and about for long periods of time without worrying about losing battery.
It would be difficult to think of one area where my AFK's support was most appreciated. Everything they did made a big difference."
"my AFK's support, not just financially but in terms of the advice, has gone a long way to helping me get the wheelchair. I really do appreciate the assistance, as getting funding in place and the right chair can be a long and complicated process. I'm also grateful to you recommending Recare as a supplier. I couldn't fault how they've dealt with me as a customer, or their commitment to making me comfortable in the chair."
my AFK saved a total of £6,929 on Sam's chair, which can contribute towards other vital mobility equipment for disabled children and young people.