my AFK backs new national campaign '#PlayForAll'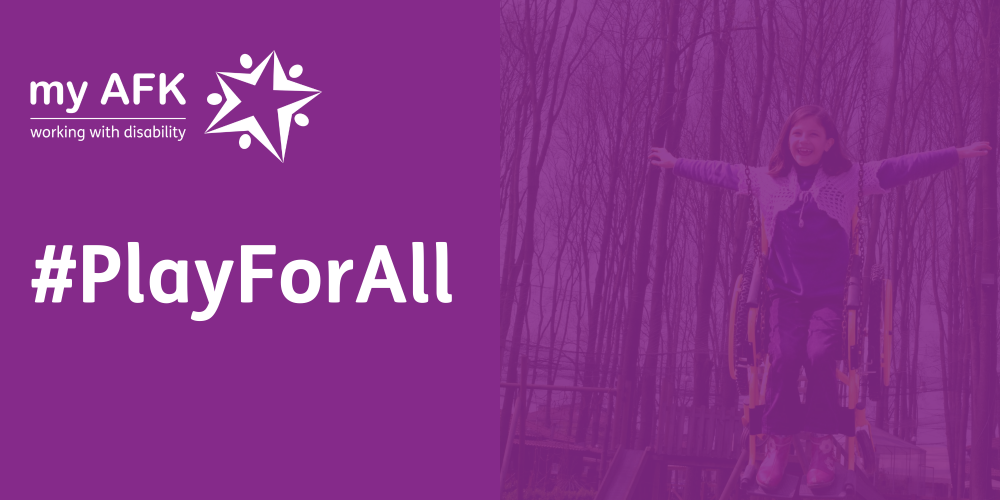 my AFK has become a part of a national campaign aiming to raise awareness and shed light on the lack of accessibility across the country for young disabled children in public spaces. Finding fully accessible play frames, toilets and changing facilities should not be a game of chance.
We have teamed up with our Ambassadors and disability campaigners, the Atwal-Brice Family, resulting in our CEO being interviewed on BBC Radio Humberside alongside the pair. Catch the interview here.
As we come out of lockdown and we are once again able to take our children to parks, play areas, attractions and other public spaces, it is clear that far more needs to be done. We are behind a new initiative to make such attractions a place where any child can enjoy a day out, just as much as the next. Finding fully accessible play frames, toilets and changing facilities should not be a game of chance. The pressure put on families when such facilities are not available can often mean the difference between a successful day and one that is fraught with stress and anxiety.
We are proud to be a part of a new campaign #PlayForAll, aiming to raise awareness and shed light on issues surrounding accessibility – or lack of – for disabled people across the UK. We are especially focusing on younger disabled children who are consistently left out of the equation when it comes to accessible areas to play and enjoy themselves with dignity in public spaces.
Suddenly, and for the first time in the majority of people's lifetimes, communities have come to terms with enforced self-isolation and feelings of exclusion. At my AFK, we help individuals who often struggle to keep these feelings at bay in daily life, regardless of a pandemic. There should be no reason why a disabled child should be on the side-lines, watching others enjoy what could easily be enjoyed by all. 'Accessible' and 'Fully Accessible' should be synonymous.
Providing an accessible chain swing on a play park is not challenging. Installing a changing bench and a hoist in a toilet is not challenging. The challenge comes when young disabled people and their families have to navigate and structure their days around considerations that should not exist. Whether it's cutting the day short because there is no suitable equipment for your family to enjoy or having to drive hours to the swimming pool because it's the nearest one with a fully accessible changing place.
As governments and local communities look to come out of a global crisis that has affected disabled people more starkly than most others, we must not leave behind or overlook the specific needs of young people with disabilities. We hope as we emerge from lockdown we can create a period of positive transition and change, continuing to focus on the ability, not the disability, of our young people. This includes providing inclusive and accessible options for our young people to keep engaged, fit, happy and healthy and #PlayForAll.
We are beginning to gain some national traction for this campaign and we are excited to continue to bring #PlayForAll in to public conciousness.
Get in touch and show your support on social media!