"It is brilliant to see Dylan back on his feet, independent again!"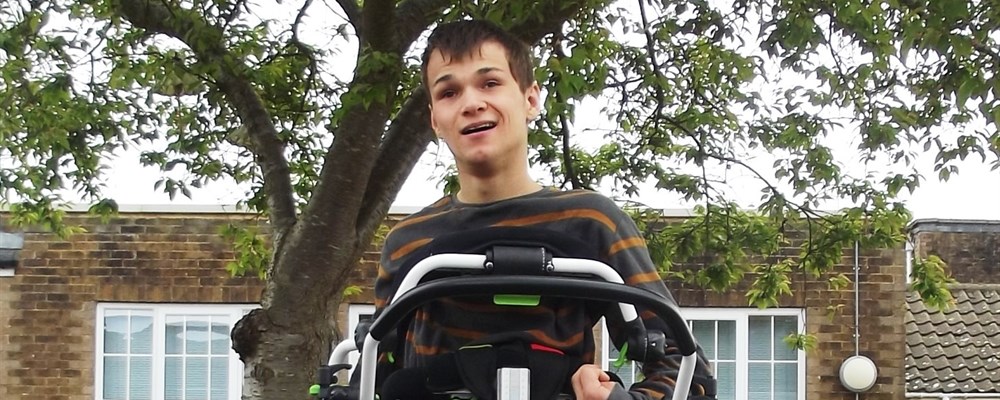 Dylan is 18 and is in his second year at Treloar College where he has won the cookery and end of first year class prizes.
He is very active and loves walking his two Labrador dogs, Bonzo and Rufus, skiing, roller coasters and running.
But because he has quadraplegic cerebral palsy, he uses a specialist walker to access things he can't do in his wheelchair, like running down hills and going to the beach with his family.
Al, Dylan's mum, applied to my AFK (Action for Kids) for a new walker as Dylan had outgrown his old one. The equipment cost £2336 and his mum could pay £1000 towards it.
Yet Mobility Advocacy Manager, Julia, found that a Grillo walker is funded by many NHS authorities as part of a physical and postural physiotherapy programme. However the NHS wouldn't provide a new walker because Dylan's GP address had moved to his new residential college – which he was advised to do.
Dylan is fortunate that he can access medical treatment at college so Dylan's mum changed his GP back to his home address, and my AFK got the equipment Dylan needed.
Our advocacy efforts saved Dylan's mum £1000 which can be used for other equipment Dylan needs and it also saved my AFK £1336 which will buy another young person equipment not funded by the NHS.
Al said: "Dylan can't walk unaided and has used a walker since he was 18 months old to go out with his three brothers, his dogs and his friends. We really struggled once we needed an adult size walker and Dylan went for a year without one, which was really hard. He was very frustrated stuck in his wheelchair, sitting around.
"There was so much paperwork to do, with different quotes and funding panels and we couldn't believe it was such a small thing stopping us in the end. We are really, really grateful for Julia's help. I think we'd still be waiting for the walker without it."
"Please pass on our enormous heartfelt thanks to the people who funded Jack's fantastic trike. From a very happy and grateful young man and his teary-eyed parents who feel emotional just looking at what joy his trike brings him. Many, many thanks to all involved."
The benefits go beyond money; having NHS funded equipment means that:
The health authority will make sure it is maintained. This is very important as just like a bicycle, equipment needs upkeep and repairs.
Dylan is in the system, so it will be more straightforward to access equipment in the future when he needs it.