AFK Awards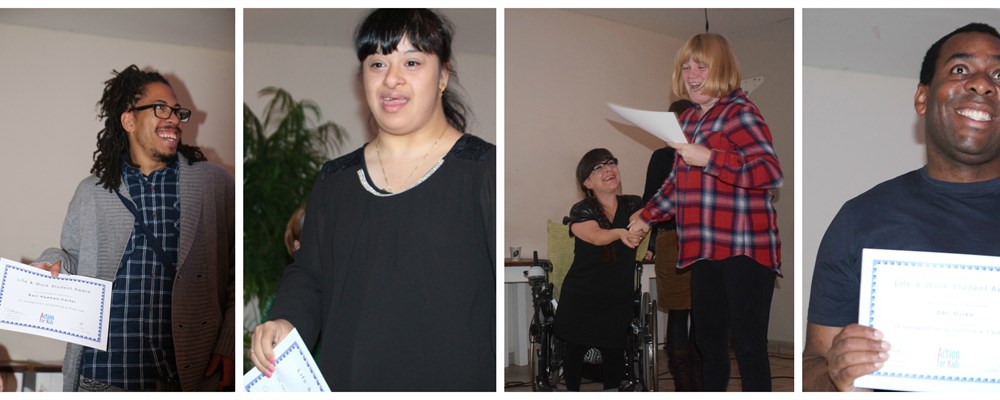 To celebrate our trainees' successes in life and work, we held our first ever awards ceremony with VIP guests Dr Popsy and Eastenders actress Lisa Hammond.
The room was filled with joy as young people, parents, staff and volunteers celebrated achievements by my AFK's trainees including great team work, making exceptional effort, increasing social and community participation, creativity, being an example to others, completing work placements and ultimately getting a paid job!
This means that these trainees become part of the 6% of those with learning disabilties in the UK to beat the odds and have paid employment.
We couldn't be happier for these young people who have worked so hard to increase their employability skills and achieve the following:
| | | | |
| --- | --- | --- | --- |
| 100% attendance | Working multiple jobs | Motivating other staff | Being a great team player |
| Excellent with customers | Being smart and polite | Always cheerful | Being proactive |
| Excellent timekeeping | Overcoming big challenges in life | Getting more hours and more pay! | Being skilled in multiple areas |
| Great at following instructions | Supporting colleagues | Helping peers | Being a great mentor to others |
| Always on time, always helpful to staff and customers | Very sociable and friendly | Always including others | Taking part in more activities |
| Thinking outside the box | Speaking up in front of others | Initiating conversation | Learning to drive |
| Getting an apprenticeship | Starting college | Volunteering | Getting into university |
| Making people feel welcome | Making tough decisions, applying self advocacy to speak up and make positive changes in life | Increasing numeracy skills | Using initiative |
| Initiating work projects | Caring about the environment and setting up recycling projects | Always willing to help out and participate in projects | Impressing staff and employers with hard work and efficiency |
| Producing films | Always supporting others and working with them to help them understand and achieve their aims | Persevering in a placement when it got tough and taking the effort to take responsibility | Creating unique and dynamic art |
Could your workplace benefit from the skills and dedication of our trainees? Find out more here.