AFK Beach 2023: A Month of Sun and Sand for a Cause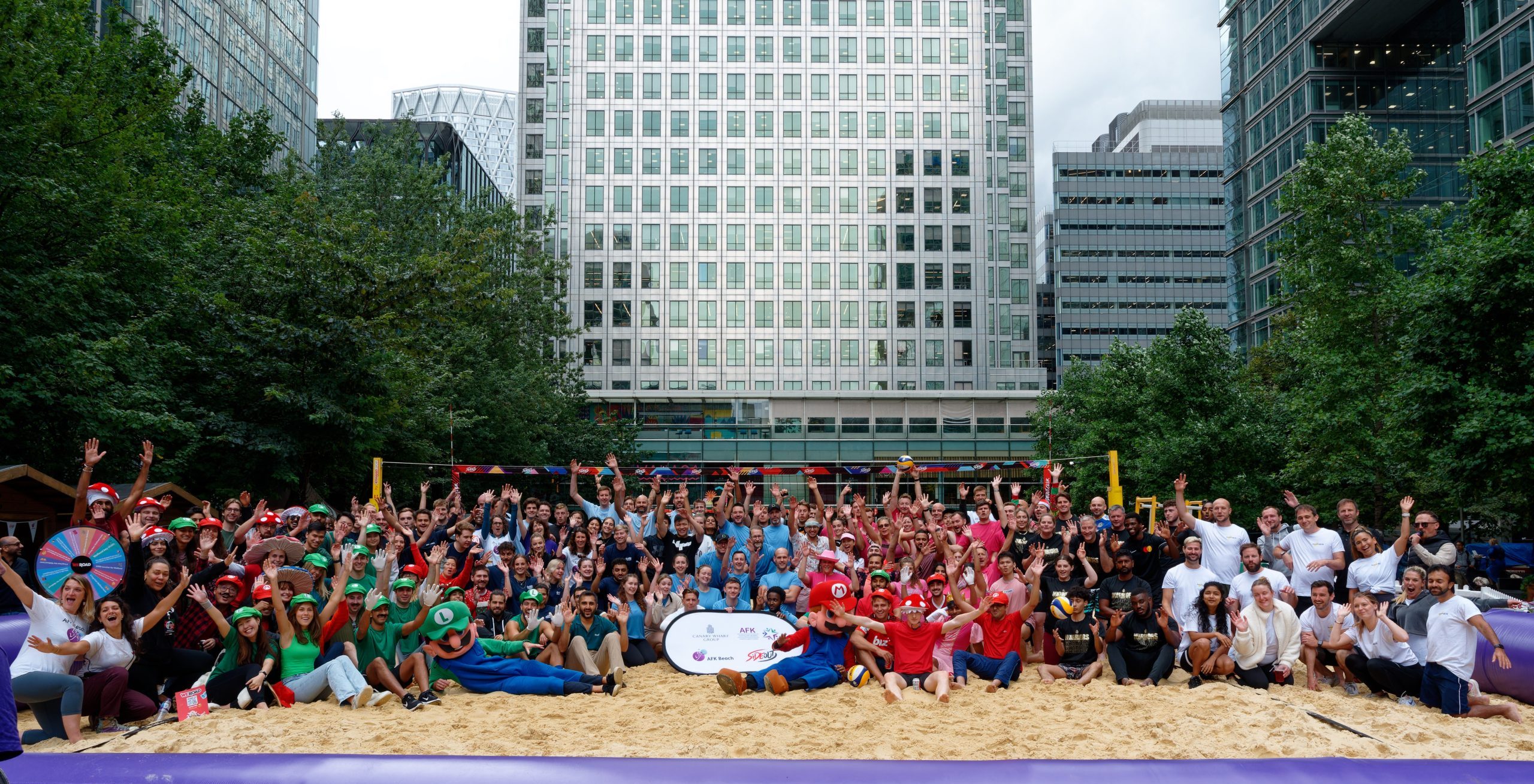 The sun has now set on our flagship fundraising event for another year. Canada Square Park, Canary Wharf now hosts an ice rink instead of 2 beautiful beach volleyball courts. Here's an update with all the new of AFK Beach 2023.
Over 2000 players from London's companies, schools, and community groups gathered at Canada Square Park, Canary Wharf. The courts buzzed with energy as 16 top players competed in the SideOut Elite Invitational Championships.
Special guests, Javier and Joaquin Bello, Great Britain and England Champions and Birmingham Commonwealth Bronze Medallists, graced the event, joining to promote the sport and add to the excitement:
Thanks to the incredible support, AFK Beach 2023 raised over £100,000. This substantial sum will go a long way in assisting children and young people with disabilities and autism, providing them with essential mobility equipment and access to sustainable employment opportunities.
In a nail-biting final, "Barings on the Beach" emerged victorious, clinching the championship trophy in a thrilling match against last year's runners-up, Accenture.
Check out the finals here
| | |
| --- | --- |
| Position | Team name |
| Champions | Barings on the beach |
| 2nd | Accenture Team Barbie |
| 3rd | EY 1 |
| 3rd | Death Volley |
| 5th | Delta Capita |
| 5th | Marshall W-Aces |
| 5th | Accenture Team Ken |
| 5th | Mastercard |
| 9th | Kepler |
| 10th | Canary Wharf Warriors |
| 11th | EY 2 |
| 11th | Let's Beach |
| 13th | Team Napier |
| 13th | Fitch |
| 13th | Zebra Waves |
| 13th | The Digging Ducks |
Participants showered praise on the event, expressing their gratitude for the personalized event management and the fantastic atmosphere. One player exclaimed, "What a great event! It surpassed all our expectations, and the lunch was amazing."
A heartfelt thank you to our event partners – SideOut, Canary Wharf, and Volleyball England – for their unwavering support. Special appreciation goes to headline sponsors WyzePay and Delta Capita, as well as associate sponsors WeRoad and Third Space.
As we bid adieu to AFK Beach 2023, stay tuned for updates on AFK Beach 2024. You won't want to miss what we have in store!
Thank you to Steve Smith for capturing all the memorable moments at AFK Beach 2023. We appreciate your contribution to the event.
Thank you to everyone who made AFK Beach 2023 a roaring success. Your support ensures that AFK continues its mission of making a positive impact in the lives of those with disabilities and autism. Until next time!