"Never judge a book by its cover"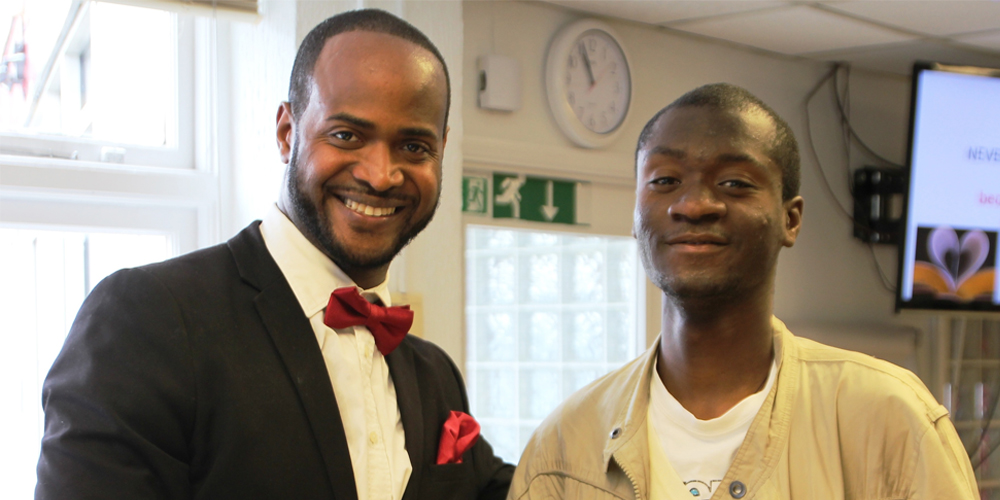 This month, Jimmy, a business analyst at Lloyds Bank, gave a motivational speech to our students about getting a job you love.
Jimmy was born with cerebral palsy in Nigeria but from a young age he always knew he wanted to be a banker. Jimmy never considered himself disabled until he saw himself on TV aged 10. It shocked him to realise he was different.
Yet Jimmy didn't let it hold him back, he kept his positive attitude and focussed on what he could do instead of what he couldn't. Despite mobility and speech problems, Jimmy went on to achieve a business degree and an MBA, and started looking for work at a British banks.
After sending applications to many organisations, Jimmy didn't receive any replies. He was disheartened but carried on doing all he could to secure a job.
One day, a bank said they would give him work and Jimmy was delighted. He was given a tour of the office and even shown where he would sit, then they told him he didn't have the job.
At this point, it hit Jimmy really hard and he was very upset. But he kept applying and didn't give up. And finally it paid off – Jimmy was offered a placement role at Lloyds Banking Group and during that time he impressed management and they offered him 6 month contract.
He was then given a permanent role. After all the hard work, frustration and many applications, Jimmy got a job at a bank he had always dreamt of working at. He's been working there for years now.
Jimmy told us: "Never judge a book by its cover – the content is what makes the book. Life is filled with events that shape you or break you, and living with a disability is tough, not just physically, mentally too, but everyone has something to offer.
"I did a short film for Lloyds Banking Group demonstrating my story and received a lot of positive feedback and realised I could encourage others.
"When I met a group of young adults from [my AFK] and I saw a huge potential in them all so I decided to give the presentation to show them that in spite of any disability they can achieve their dreams."