Dan's life with Duchenne Muscular Dystrophy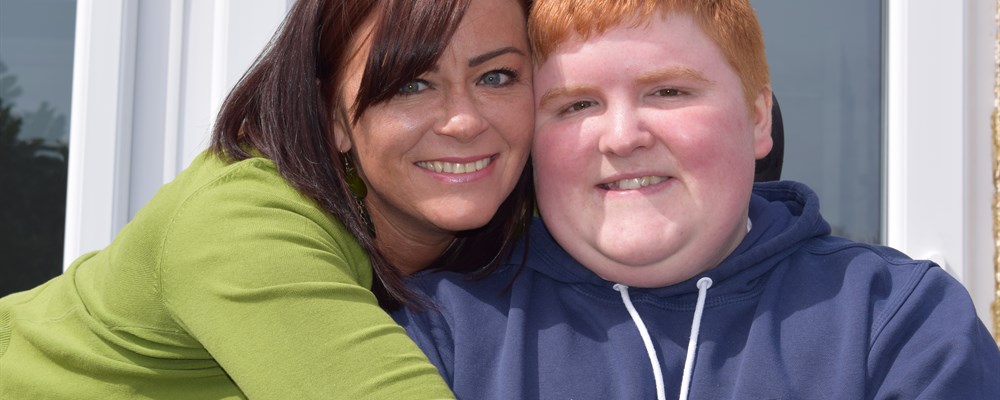 "This is Dan's life"
Michelle is a working mum of two boys. Adam is 18, and preparing to leave school. Dan is 16 and at college. Every day Michelle lifts Dan out of bed and bathes, dresses and feeds him before he goes to college, and she then goes to work.
Dan was diagnosed with Duchenne muscular dystrophy (DMD) when he was three. As Dan's muscles got weaker and weaker, he stopped walking and when he was 12 he started using a wheelchair to get around.
Michelle told us: "From the day of diagnosis all our lives changed forever. I look at pictures of Dan bouncing on the trampoline when he was little… DMD just takes everything away."
Dan has now lost the ability to lift his arms as well. As he gets older, DMD will start to affect his lungs and then finally his heart. There is no cure.
Yet it doesn't stop Dan. He is full of jokes and is good friends with his mum, and his ongoing positivity has had a massive effect on Michelle. Now she just tries to spend time with Dan whenever she can – while she can.
Dan needs a new electric wheelchair as his is old, unsupportive and breaks down all the time. Michelle watches Dan sitting uncomfortably in the wheelchair all day, every day, often unable to get where he needs to be.
Michelle added: "This is Dan's life. He's in the wheelchair all the time; it's how he gets around everywhere. The quality of Dan's life and spending quality time with each other is all we have. Instead we're worrying about getting a new chair and everything else…"
Dan needs the right wheelchair to help his posture, increase his circulation and help him get out and about with his family and friends.
Can you help give Dan a new lease of life and the freedom to explore his world with his family?