AFK Beach Volleyball Championships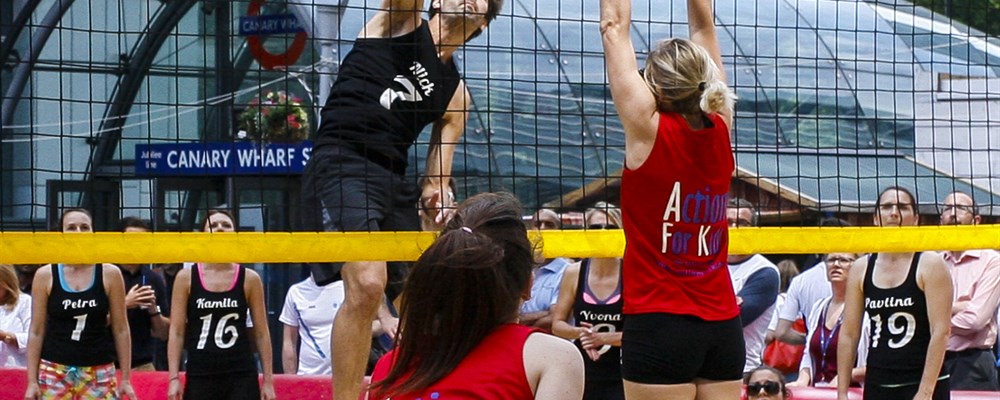 For the eighth year running, Action For Kids (now known as my AFK) took up a three week residency in Canary Wharf this month for the Beach Volleyball Charity Championships.
Throughout this year's heat wave and the hottest day of the year, thousands of city employees, schoolchildren and professional players got on the sand to take part in the Olympic sport.
All new this year was the England Juniors' tournament with Javier Bello and Joaquin Bello, and Zoe Baxter and Anaya Evans taking the winning titles.
Another addition was footvolley – beach volleyball with no hands – with 2016 UK Champion, Gary Titley, plus 2014 UK Champion, Ben Coyne, taking part in the tournament.
SideOut's Elite Invitational Tournament saw premium European players competing with Vicky Palmer, Jess Grimson, Christoph Datler and Mark Baechli winning.
Different sectors joined in for therapeutic team building sessions with industry tournaments including bartenders, bankers, design and marketing agencies and many more.
TV sports pundit, Rob Walker, joined the corporate championships, where numerous Canary Wharf professionals and employees from the city's top firms dressed up and took competition from the boardroom onto the courts.
my AFK's CEO, Graham Duncan, said: "Beach Volleyball is our biggest fundraising event and we are thrilled that so many individuals and businesses took part – their efforts were fantastic.
"As well as raising necessary funds for us to help more disabled children around the UK, the chance to be in such a prominent area means we can further promote our mission to support young people with learning disabilities into work. We hope that businesses in Canary Wharf and beyond are motivated by what we do and get involved further."
For more details, visit www.afkbeach.london
Special thanks goes to: SideOut, Volleyball England, the UK Footvolley Association, Canary Wharf Group,Sytner Mini/BMW, Kone UK, London City Airport, Third Space Spa, CNTNR Bar and Bleecker Burger.
The Corporates – Barclays, Europeans Medicine Agency, Parthenon EY, S&P Global, Fitch Ratings, JLL,Simmons & Simmons, The Third Space Spa, Marshall Wace, Accenture, RSA Group, Canary Wharf, EY.
The Agencies – leading design, advertising and marketing agencies with employees from Saatchi, Fetch, JKR Global, Zak Agency, Chalk Social, TRO, TAG, Brand Formula, PHD Media, RPM, Landmark (DMGI), All Response Media, Pure Events, Grey London and Wednesday.
The Bartenders – The Big Easy, Pachamama, The London EDITION, Radio Rooftop Bar, Bar Life, Old Street Records, London Cheerleaders, Loves Company, Plantation Rum and Boxer Gin.